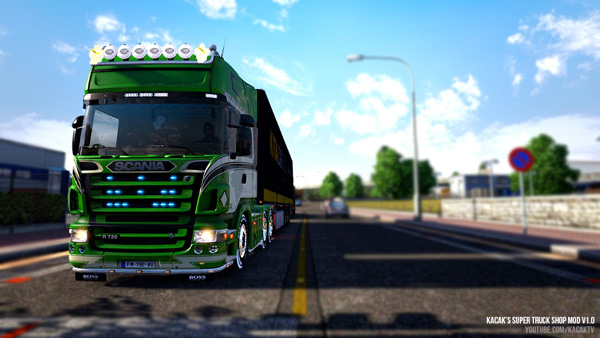 Changelog v1.0!
This pack is created by collecting lots of mods together and it works perfectly.
* New Chrome Wheels
* New Michelin, Pirelli, Goodyear Tires
* New Chassis Options
* New Skin Options
* New Kelsa Bar Options
* Blue, Green, Red, Move, Yellow, White Led Lights
* New Truck Lamps
* New Interior Options
* Angel Eyes Lights
* Accessories and Tuning. All in the video!
Tuning mod only works on the trucks written below.
* Scania R2008 Tuning
* Scania Streamline Tuning
* Scania R Tuning
* Volvo FH16 Tuning
* Volvo FH2013 Tuning
How to install:
Unzip the .scs archives into your "My Documents\Euro Truck Simulator
2\mod" folder.
Ingame: You need to activate the mods in your Profile. "Press EDIT and
Select your mods."
————————————
Tested Version: 1.8.0+
Credits:
KacaK, Flemming Vinge, SCS, maxx2504, VAAS, stewowe, 50keda,
shery0, anaheim, SCS, Mattias P and Arnook, mr.poland, KaptaN_38
Download mod
ad